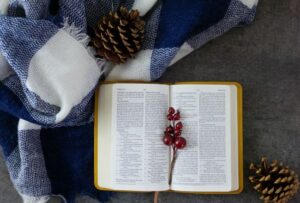 Being connected to God is important. Diving into the Word daily is a great way to ensure that you are continually developing a relationship with your creator. Join us as we read through the Bible.
This is a Two-Year Bible Readi
ng Plan.
We are currently in Year 1 of the Study.
A prayer for when you read the Scriptures:
"Take away, O Lord, the veil of my heart while I read the Scriptures.
Blessed art thou, O Lord: O teach me thy statutes!
Give me a word, O Word of the Father: touch my heart:
enlighten the understandings of my heart:
open my lips and fill them with thy praise."
-Lancelot Andrewes (1755-1626), quoted in the Oxford Book of Prayer, 285
1 Psalms 69, 70; Acts 15:22 – 35
2 Psalms 71, 72; Acts 15:36 – 16:5
3 Psalms 73, 74; Acts 16:6 – 15
4 Psalms 75 – 77; Acts 16:16 – 24
5 Psalm 78; Acts 16:25 – 40
6 Psalms 79, 80; Acts 17:1 – 9
7 Psalms 81 – 83; Acts 17:10 – 15
8 Psalms 84 – 86; Acts 17:16 – 34
9 Psalms 87, 88; Acts 18:1 – 11
10 Psalm 89; 1 Thessalonians 1
11 Psalms 90 – 92; 1 Thessalonians 2:1 – 9
12 Psalms 93 – 96; 1 Thessalonians 2:10 – 16
13 Psalms 97 – 101; 1 Thessalonians 2:17 -3:13
14 Psalms 102, 103; 1 Thessalonians 4:1 – 12
15 Psalm 104; 1 Thessalonians 4:13 – 18
16 Psalm 105; 1 Thessalonians 5:1 – 11
17 Psalm 106; 1 Thessalonians 5:12 – 28
18 Psalm 107; 2 Thessalonians 1
19 Psalms 108, 109; 2 Thessalonians 2:1 – 12
20 Psalms 110 – 114; 2 Thessalonians 2:13-3:5
21 Psalms 115 – 118; 2 Thessalonians 3:6 – 18
22 Psalm 119:1 – 64; Acts 18:12 – 17
23 Psalm 119:65 – 120; Acts 18:18 – 23
24 Psalm 119:121 – 176; Acts 18:24 – 28
25 Psalms 120 – 126; Acts 19:1 – 10
26 Psalms 127 – 132; 1 Cor. 1:1 – 9
27 Psalms 133 – 136; 1 Cor. 1:10 – 17
28 Psalms 137 – 139; 1 Cor. 1:18 – 31
29 Psalms 140 – 143; 1 Cor. 2:1 – 5
30 Psalms 144 – 146; 1 Cor. 2:6 – 16
31 Psalms 147 – 150; 1 Cor. 3:1 – 9